Seattle, Sights and Sounds
Seattle is one of the places that Greg and I had been wanting to visit for a while now, so when my friend Maggie moved there for work last fall, we immediately starting planning a trip out there. Let me tell you, Seattle did not disappoint! I'm making two separate posts for the trip. This one is focused more on the sights and sounds, pun intended, within downtown Seattle. The other post showcases the beautiful hike that we took into the mountains one day... just a short drive outside of the city.
On our first day in Seattle, we explored pretty much all the major touristy spots. Greg and I typically like to try and find non-touristy things to do, but we made an exception for Seattle because there are so many cool landmarks.
First stop was the Public Market. The sign was actually smaller than I expected!! In Grey's Anatomy clips when they show it, it always looks so massive! But needless to say the market was still cool. We got there just before 9am so it was just opening and it wasn't busy yet. My favorite thing there was all of the fresh flowers!!! My gosh it was amazing. If I lived there, I would buy flowers all the time. Watch shown below is Fossil, and can be found here.
After the market we walked to Olympic Park. Another great thing about Seattle, it's very walkable! It was a little chilly because we went mid-march, but it was nice to be able to walk to everything. Olympic Park was really cool because there you can get a great view of The Sound and of the Space Needle...which leads me to our next stop...
The Space Needle was our next stop! (Pictures shown below.) It is not actually right downtown like I assumed, but still within walking distance. You can see from a couple of pictures that we went up to the top of it to see the view and it was pretty sweet. We couldn't stay out on the balcony very long because it was so freaking windy!!! Apparently, it's usually not like that but just happened to be on that day. Either way it was still an awesome view. After the space needle, we went to the Volunteer Park Conservatory. That's where the pictures are with the flowers. It was a cool little greenhouse space with all sorts of unique plants. We were only there for about 30 minutes, but it's worth stopping by. It was like a little escape from all the other city attractions.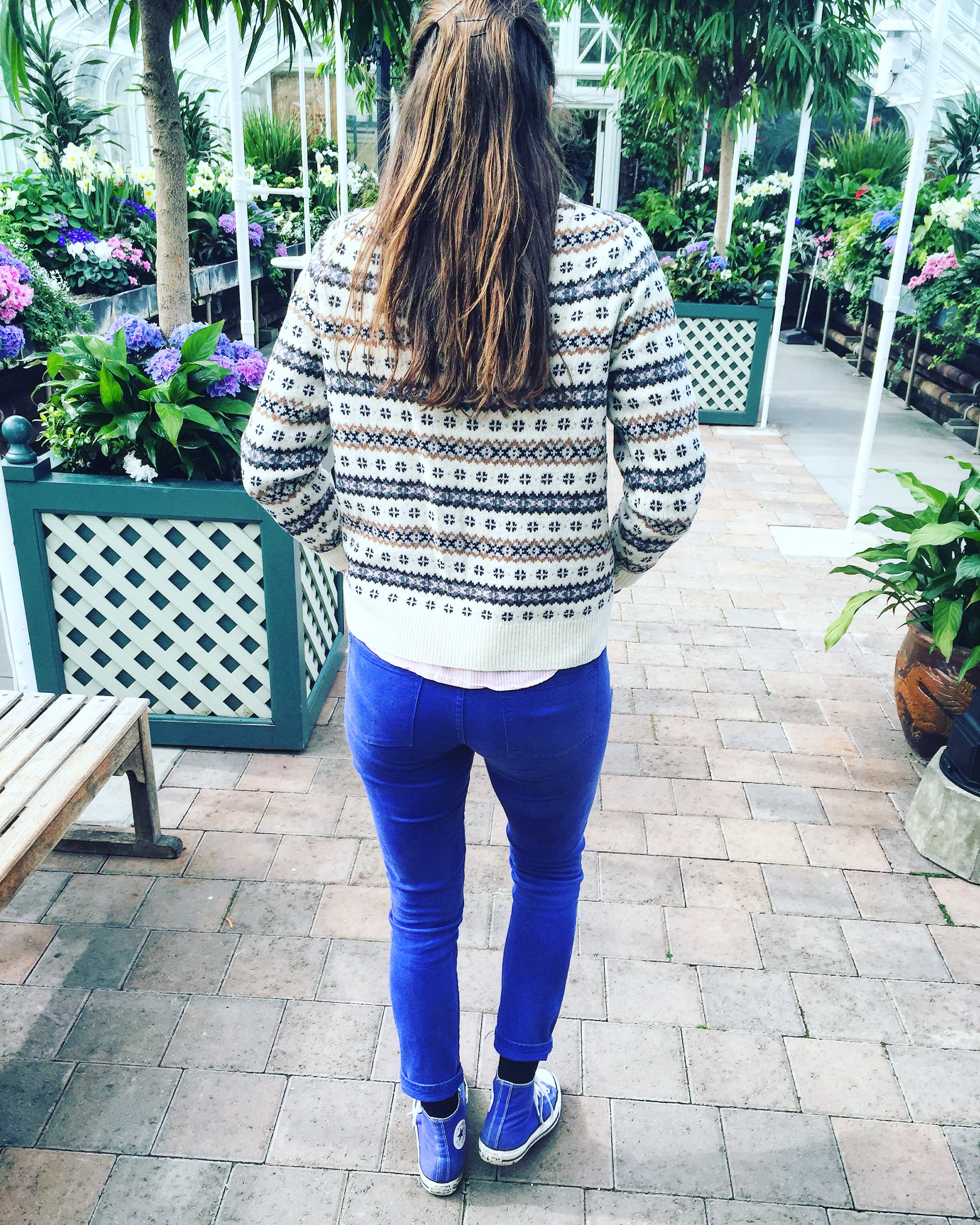 Some outfit details so far...My navy jacket is Burberry, (found here) and was my first Burberry purchase. It was expensive but SO WORTH THE SPLURGE!!! I have worn it so much and it literally goes with everything. It's one of those staple pieces that I'll still be wearing 10 years from now. It is perfect for all kinds of weather. Not too heavy, but still enough to block a little wind, rain, and the chilliness of spring or fall. The fair isle sweater is winter 2015 J.Crew. My indigo pants are garment-dyed twill by J.Crew.
Moving on to some of the other sights we saw on day 3 in Seattle. Let me just say...if you go to Seattle you HAVE to go to the Seattle Central Public Library! (First picture below.) It is absolutely amazing. Probably one of the coolest buildings I have ever been in. And I would suggest going to the top floor and then snaking your way down floor by floor so you can see everything. That's what we did and Greg and I were blown away by how cool it was!! After the library, we went to Kerry Park. (Second and third pictures below.) Which I had heard a lot about and when we got there, just looking at the space you're like...is this it? And then you turn around and see the view, and you're like...okay, now I get it! The best view in Seattle by far. The reason the space needle always looks so big is because they show it from this angle a lot. Freaking cool man.
The last two pictures below are just Maggs and I out and about downtown and then we had drinks at the Fairmont Olympic Hotel one night. Very cool and kind of swanky hotel. A nice change up from the bar scene.(My gray booties are by Sole Society, similar here.)